Conservation Development as a Solution to Suburban Sprawl
by Roger S, Lin
If smart growth is the solution to land use and real estate development in urban areas, what is the solution for rural and outer suburban communities?  Conservation Development may be one of the solutions that show some promise.
Conventional Subdivisions
Since the construction of Levittown in New York in the 1950s, America has been on a suburban building binge; according to David Rusk's Inside Game/Outside Game, urban footprint in the United States expanded from 208,000 square miles to 585,000 square miles from 1950 to 1990.  While urban population grew 128 percent during that period these communities ate up land at an even faster pace.  Some of these suburbs eventually transformed from bedroom communities into "Edge Cities" that had its own business, shopping and entertainment districts that rival the city centers.  Tysons Corner is a prime example of such an Edge City.
Levittown NY.  Image from www.nytimes.com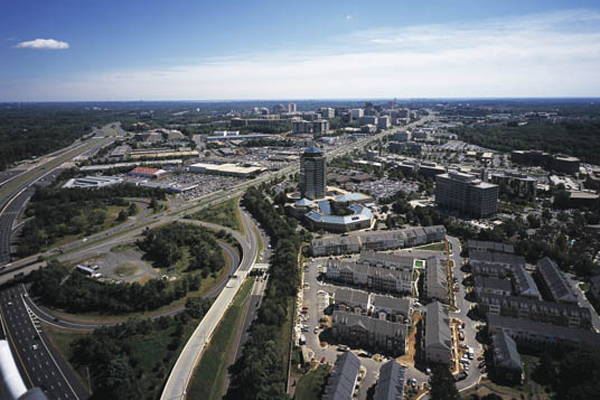 Tysons Corner, VA.  Image from www.city-data.com
Going a few more miles out from these closer-in suburbs are the "Exurbs" or "commuter towns" which mainly function as bedroom communities for the various regional economic centers.  Over the last few decades, many of these towns experienced rapid population growth employing conventional subdivision.  Residential land development in northern Virginia is the perfect example of this.  All over Loudoun and Prince William counties, large tracts of land consisting of very large newly constructed housing subdivisions line the landscape.  In many communities, low density zoning also play a role.  In districts that only permit one residence per acre or more, you see large swaths of land cut up into over-sized lots with single family homes on them.  Each of the homes is surrounded by large lawns of no practical purpose.
There are many problems with this type of development pattern.  First, it is extremely wasteful.  Land is a finite resource, having a large lawn is probably the least practical of all uses.  Second, forests or farmland had to be cleared for this type of development.  The result is loss of trees, natural habitats and valuable farmland.  Third, developments like this require the home owners to perpetually waste water and fertilizer on lawns.  While the grass remains unnaturally green, enormous amounts of pollutants are released into important bodies of water like the Chesapeake Bay.
An Example of a Conservation Development.  Image from http://www.dem.ri.gov/programs/bpoladm/suswshed/condev2.htm
Conservation development is an approach to land development that first, accepts the premise that development will continue to occur.  It then takes measures to protect an area's natural environment by preserving open space landscape, vista, farm land and natural habitats for wildlife and maintaining the community's rural character.  The approach promises to create communities while protecting species and ecosystems against further habitat fragmentation and loss.  A 2008 study of 10 conservation development projects in the eastern United States showed that these developments greatly outperform conventional subdivisions in protection of biodiversity and ecosystems[1].
Economically, homes in these developments command higher prices.  Colorado State University observed 20-29 percent higher sale prices for homes in conservation developments than homes in conventional subdivisions.  Home value also tends to appreciate faster in these developments than conventional subdivisions.
We know from George Mason University's Center for Regional Analysis that population growth and housing needs will continue to put pressure on all the 21 local jurisdictions in the region.  As we embrace growth, we need to be mindful of the impact on the natural environment.  By using conservation development as one of the approaches to land development, we build higher value communities while preserving the fragile ecosystem around us.
Next time, we will talk about how zoning ordinances have evolved to encourage conservation development.
---
[1] Milder, J.C., J.P. Lassoie, and Debford. 2008. Conserving biodiversity and ecosystem function through limited development: an empirical evaluation. Conservation Biology 22:70-79
Tags: biodiversity, commuter towns, conservation development, conventional subdivisions, ecosystem, Edge City, Exurbs, farmland, Levittown, loudoun county, natural habitat, preservation, prince william county, smart growth, tysons corner
Trackback from your site.
Roger Lin
Roger Lin is a second year student at George Mason University's Masters in Real Estate Development. He is an aspiring building scientist. In his day job, he manages Optimal Enclosures LLC, where he specializes in constructing high performance enclosures for home builders. He is an advocate of Passivhaus and Resilient design in homes. He also runs a small real estate investment company for his family. When he is not in school, at a job site or looking at properties, he is baking bread at home with his two kids.